Mark Your Calendar for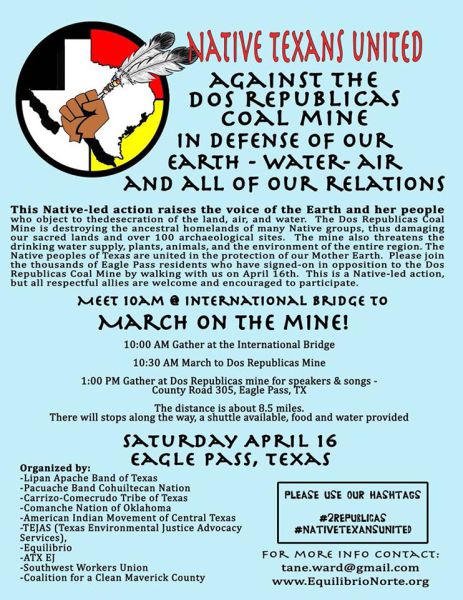 Join Us and Stand with the Native

Peoples Against Dos Republicas
On Saturday, April 16th at 10 AM a rally and march is planned against the Eagle Pass Coal Mine.  We ask you to join us in inviting your friends and family, and sharing the flier and information.  Help us spread the word by downloading, printing and sharing the rally flyer.  If you would like to assist in volunteering for signs, donations of water and food please contact us at savemaverickcounty@gmail.com and we can get you in contact with an organizer. - Thank You and See You on April 16th!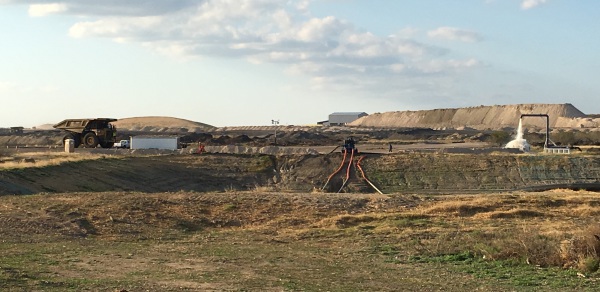 This Native-led action raises the voice of the Earth and her people who object to the desecration of the land, air, and water. The Dos Republicas Coal Mine is destroying the ancestral homelands of many Native groups, thus damaging our sacred lands and over 100 archaeological sites. The mine also threatens the drinking water supply, plants, animals, and the environment of the entire region.

The Native peoples of Texas are united in the protection of our Mother Earth. Please join the thousands of Eagle Pass residents who have signed-on in opposition to the Dos Republicas Coal Mine by walking with us on April 16th. This is a Native-led action, but all respectful allies are welcome and encouraged to participate.

Thanks and gratitude are given to the following native groups and organizations who organized this effort:

-Lipan Apache Band of Texas                                                                    -TEJAS (Texas Environmental Justice Advocacy Services), -Equilibrio 
-Pacuache Band Cohuiltecan Nation                                                         -ATX EJ 
-Carrizo-Comecrudo Tribe of Texas                                                          -Southwest Workers Union 
-Comanche Nation of Oklahoma                                                                -Maverick County Environmental & Public Health Association
-American Indian Movement of Central Texas                                        -Coalition for a Clean Maverick County


10:00 AM Gather at the International Bridge
10:30 AM March to the Dos Republicas mine
Sign Up, Share & Invite


Visit this Event Facebook Page and help us spread the word!